Service & Calibration
Repair Service
Caltest Instruments offer electrical equipment repair, service, and calibration on all of the products that we provide as well as equipment not represented or sold by Caltest. If you have electrical equipment that requires repair then please contact our service team; they have been trained by all our major principals and have extensive knowledge in the service of AC and DC power, metering test equipment and general purpose test and measurement equipment.
Our UK-based facility is the official European service centre for:
The service team offer a field service capability so can make on-site visits to carry out equipment repairs. If you have any further questions, please call us on 01483 302 700 or complete the contact form.
Electrical Equipment Calibration
Our environmentally-controlled UKAS-accredited calibration laboratory offers a range of electrical equipment service and calibration, from a certificate of calibration traceable via our own standards to National Physics Laboratory, to a full UKAS accredited calibration. Combined with our modern service facility we can offer full service for all types of electrical and electronic instruments.
Our calibration laboratory is accredited by UKAS for DC and LF measurement, with particular focus on AC power and energy, both active and reactive measurements.
Please see our UKAS schedule of accreditation (PDF). Please note that items not covered by our schedule of accreditation may still be calibrated but they will not be covered by our UKAS accreditation. Please contact our calibration team for details.
Although Caltest Instruments UKAS schedule of accreditation and laboratory capabilities have a focus towards the calibration of power and energy standards, working standards, electric meter testing and associated equipment in the electricity supply industry, our UKAS accreditation and calibration laboratory covers a large range of AC power sources and electronic and electrical test equipment.
The majority of the laboratory's capabilities are derived from basic principle, using primary standards, some of which have over 30 years of traceability. This method offers a high level of stability and accuracy.
Our calibration staff have a combined experience of over 50 years in UKAS accredited calibration laboratories and are available for advice on all calibration subjects.
Our calibration laboratory is the official European calibration centre for:
Adaptive Power Systems
H&H (UK and Ireland only)
Pacific Power Source
Sefelec (UK and Ireland only)
STS Instruments (formerly Slaughter Test Systems)
Vitrek
Caltest Instruments offer calibration for a whole range of electrical equipment and not just those that we sell or hire, so contact us by phone or fill out the form.
Our calibration team offer a field service capability and make site visits to carry out calibrations. However, work carried out on-site (i.e. not in our calibration laboratory) is not UKAS accredited.
Please contact us for further details of our electrical equipment calibration service and to arrange an appointment.
Our accreditation is limited to those activities described on our UKAS schedule of accreditation found below.
Calibration Services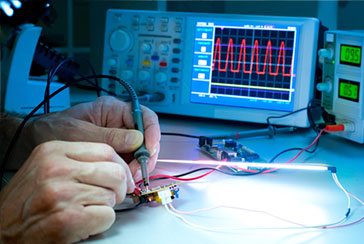 Other manufacturers that Caltest provide calibration services:
RBL
Schnieder
Sefelec
Solartron
Sorensen
STS
Tektronix
Time
Transmille
Valhalla
Vitrek
Voltech
WaveTek
WSE
Xitron
Yokogawa
Zenith
Zera